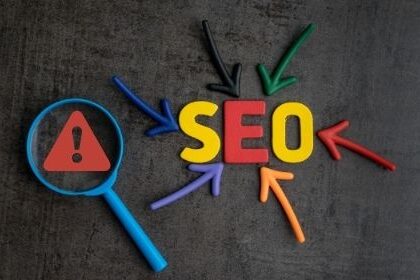 Marketers frequently commit errors while marketing with cryptocurrency. However, it is important to note that these 4 mistakes can be avoided if marketers take the time to learn about cryptocurrency marketing.
Most of the cryptocurrency websites have one of the 4 following errors:
Building One Page Websites
Creating a one-page website can decrease your chances of ranking high on search engine results pages. Rather than having a single web page that includes all of the services you provide and contact information, you must create a website with other web pages. The pages can be optimized for different sets of keywords, which will help you rank higher for these terms.
The ideal method to make your website more SEO-friendly is to design a homepage that highlights the core product or service that your crypto business provides. Each of the themes discussed on the homepage should be designed to lead to new pages. For your blockchain business, you should concentrate on long-form content. You should avoid writing thin content for your web pages that are fewer than 400 words long. The length of your material should be between 1,500 and 2,000 words. One keyword per page and one page per topic should be optimized.
Inadequate Website Structure
A fantastic user experience is created by a great website structure. Humans are hardwired for cerebral stability, which is defined as "a state of balance between an individual's mental conceptual model and their environment" by the Britannica Encyclopedia. In the context of a website, the visitors expect to be able to simply browse and access information.
What is the goal of a website, after all? To discover more about a firm or product before making a purchase or requesting their services. Everything, from the layout to the copy, design, and webpage names, should be targeted toward this business-related aim. A good website will use crypto SEO, organize topically similar information together, and keep it simple and logically organized.
Ignoring Blogging
Some clients do not perceive themselves to be content creators and they are fearing the prospect of having to write. Of course, this is something that can easily be handled by a digital marketing agency. Blogging improves the quality of cryptocurrency SEO by promoting your website as a relevant answer to client concerns and connecting your business to its target audience.
According to research, companies that write generate 67% more monthly leads than those that do not. Blogging also maintains websites current and relevant. Search engines are strict and will not show readers old websites, therefore posting regularly shows that your website is active and well with new content.
Wrong Use of Keywords
Incorrect keyword usage will have a detrimental influence on cryptocurrency SEO. Because the web is a competitive field, you must learn what other businesses are ranking for in addition to keyword research. Understanding where your competitors have located aids in identifying quick wins and indicates whether or not you are applying the same keywords.
Cryptocurrency SEO is a fine balance because although some keywords are popular, if they are already in use on many sites, ranking in search engine result pages will be more challenging (SERPs). Keywords with a high search volume are wonderful, but keywords with a high search volume and low competition are the digital marketing holy grail.
Another typical error is not using sufficient keywords. There is a distinction to be made between stuffing unrelated keywords into prose and using a set of related keywords. Google's algorithms improve their comprehension of context year after year, so the more related keywords you add, the better.
Final thoughts
Implementing an SEO strategy for your crypto and blockchain company will help you increase sales and establish yourself as an authority in your market. Keyword research, content creation, and optimization, among other SEO activities, will aid in the improvement of your website's SERP rating. By focusing on a solid SEO approach, you can ensure that your website has established itself as an authority in the cryptocurrency area and can compete with competitors in the same sector.