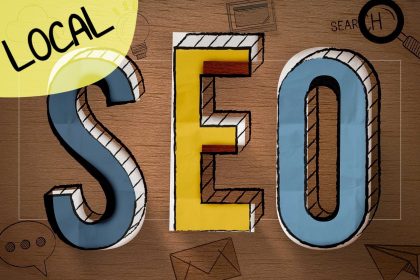 Local SEO refers to the process of 'optimizing' your online presence to attract more business from relevant local searches. These searches take place on Google and other search engines.
That last point is an important one—this isn't just about Google.
People search for local businesses using various search engines… Google, Bing, Yelp, Apple Maps, etc.
For those of you that are unaware, claiming and optimizing your Google My Business listing is the cornerstone of local SEO. If 56% of businesses haven't even claimed their GMB listing, well, I doubt they've done much else…
But while claiming your Google My Business listing is a good starting point, there's MUCH more to local SEO than that.
Google has an estimated ~87% market share (in the US, at least). Which means that most people are using Google to search for local businesses. For that reason, this guide will be roughly 80% focussed on optimizing your local presence on Google.
Before We Get Started
You need to get the basics right.
That means making sure that your website is optimized for mobile visitors, as 61% of mobile searchers are more likely to contact a local business if they have a mobile-friendly site.
Use Google's Mobile-Friendly Test tool to check this.
Google My Business, Bing Places, and Apple Maps Listings
Claiming and optimizing your Google My Business listing is arguably the most important part of local SEO, although Bing Places and Apple Maps listings are important too.
Setting these up isn't too difficult—you just follow the instructions offered by Google/Bing/Apple.
Local Citations (NAP)
Citations are online mentions of your business, which usually display your business name, address, and phone number—collectively known as NAP (Name, Address, Phone).
There are two main types of citations: structured and unstructured.
Basically, structured citations are those where NAP information is presented in a visually-structured manner. They usually reside on business directories, social profiles, etc.
Unstructured citations are mentions of your business that in an unstructured format (surprising, right!?). These usually reside in blog posts, on newspaper websites, on business blogs, etc.
Why Are NAP Citations Important?

Here are two reasons why accurate and consistent NAP citations are important:
a/ According to Moz, citation signals are one of the top local ranking factors. This is true for both Google's "snack pack" results and regular organic search results. Most likely, this is because consistent NAP information across the web serves to further verify the data Google has on file (GMB) for a particular business. Inconsistent NAP information, on the other hand, serves only to confuse, mislead and misdirect both Google and potential customers. This leads to a poor user-experience—not something Google is a fan of.
b/ Google isn't the only place people search for businesses. They also search via Facebook, directories, etc. Having an accurate NAP listed on those sites will allow potential customers to find your business, which translates into more customers and revenue.
So when it comes to local SEO, your job is two-fold:
Make sure existing citations are correct and consistent.
Build more relevant citations.
On-Page SEO
Many "traditional" on-page SEO practices apply here, like: Keyword in H1, Keyword in title tag, Keyword in URL, Short and sweet URLs, Enticing meta description.
But there are a few other things to keep when trying to rank locally, like displaying NAP information and adding relevant schema markup.
Set Up Your Website Structure to Rank Local Landing Pages

If you serve multiple areas/cities and want to rank in each of those locations, you need to set up local landing pages. DON'T create multiple landing pages for the same location, but targeting slightly different terms. This will not help you to rank.
Optimize Your Homepage
Most businesses should optimize their homepage around their primary location, but you may as well optimize your homepage for your location.
Optimize Your Local Landing Pages
Your local landing pages should be optimized around individual locations.
Here are a few additional inclusions specific for local landing pages:
Opening hours;
Local NAP (if you have a real local presence);
Related keywords, sprinkled throughout
Add Schema Markup to Your Pages
It's just some additional code that gives Google additional information about your business/website, and helps them to better understand the data being displayed on your website.
Link Building (for Local Sites)
According to Moz's 2017 survey, "link signals" are the most important ranking factor for local organic results.
You should have already built a base set of links when building local NAP citations. (Most directories and local listing sites let you link to your website.)
But unfortunately, many of these will be nofollow.
So here are a few ways to build links to local business websites: Create and Promote a Useful Local Resource, Guest Blogging, Improve Popular Content (a.k.a. "Skyscraper Technique"), Steal More of Your Competitors Links With Link Intersect
This is a summary. Read the full article HERE.